An affiliate of the National Storytelling Network.
Link to NSN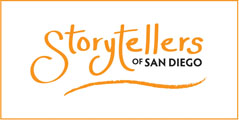 SAVE the DATE: November 12th, Annual Tellabration, 7:30pm-9:30, Bethany Luthern Church, Ocean Beach
2051 Sunset Cliffs Blvd., Free parking

,


6th Annual San Diego Storytelling Festival, March 19 was a huge succes.

Thanks to all the participating storytellers, The Friends of the Encinitas Library, Mrs. Sheila Crosby, branch manager, and all the children, families and adults who attended. See you next year for the 7th Annual.
Link to 2016 program and teller biographies
God Save the Cuisine Food Truck
was very popular. Visit
their website
for future events and locations where they will be serving their British inspired food.
Thank you to 2016 Festival Sponsors
Please patronize throughout the year and mention the Storytelling Festival
Link to websites for all sponsors
San Diego Union Tribune "One on One," interview with Mindy Donner on 2/20/2016
Link to online article
from North County Edition
Patti Christensen and James Nelson-Lucas featured in December issue of Delta Airlines

Sky

magazine.
Link to .pdf of article
Donate to the Storytellers of San Diego
A Paypal account is not required to make a donation online. Checks are also accepted: mail to: Jim Dieckmann, 3406 Elliott St., San Diego 92106
Storytellers of San Diego is a 501 (C)3 nonprofit corporation. Your donations are tax deductible to the extent of current tax laws
The Storytellers of San Diego is a non-profit corporation of storytellers and storytelling enthusiasts dedicated to promoting storytelling as an art form in the San Diego area
NEW MISSION STATEMENT: (adopted by Board of Directors, 9/15/2015)
To promote the art of oral storytelling, support and inspire storytellers, and serve as a resource for storytelling enthusiasts in the San Diego area.
Annual Membership drive is open to all storytellers and storytelling enthusiasts. $20 per year.

Download membership form
(contains benefits of membership, organizational goals, and payment instructions)
Goals:
To increase awareness of and appreciation for storytelling as an art form in a variety of settings: entertainment venues, educational institutions, health care facilities, community organizations, non-profit organizations and for profit businesses.
To provide opportunities for participation in storytelling for all children and adults, from beginners to professionals, through classes, workshops, story swaps, concerts and storytelling festivals.
To encourage the use of storytelling to bring together diverse populations in the community and promote cross-cultural understanding.


To serve as a source of information on the art of storytelling and storytelling events in the San Diego area.